Above Deck Equipment
Axxess Marine high bandwidth, broadband Internet connectivity for seafaring vessels with our Maritime VSAT solutions. Our stabilized, auto-pointing systems provide you with voice (VoIP) and data connectivity for your offshore Private yachts, oil rigs, cruise ships, freighters, tankers, fishing and navy vessels. You can count on precise, reliable uplinks and downlinks – regardless of weather or movement – with Network Innovations' Maritime VSAT.
To accommodate a variety of applications, Axxess Marine provides Cobham SAILOR and Intellian VSAT technology, combined with service plans to enable your commercial or leisure vessels for reliable high-speed Internet at sea.
SAILOR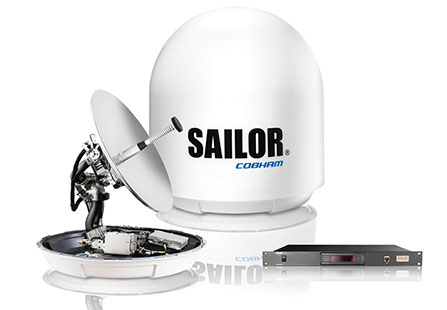 SAILOR Ku-Band and Ka-Band Marine VSAT systems feature high-performance, 3-axis stabilized antennas for reliable high-bandwidth connectivity. The SAILOR 800 and 900 VSAT Ku-Band antenna systems feature intelligent controllers and software electronics, providing high reliability and stunning performance. SAILOR 60 and 100 GX systems feature advanced tracking receiver technology to operate on the Inmarsat GX and FX network. SAILOR VSAT systems provide workboats, fishing vessels and yachts of any size with world-class, high-quality and reliable communications.
INTELLIAN
Intellian v-Series (80G, 130G) and GX (60, 100) antennas provide the highest quality for satellite systems in the marine market. The Intellian open platform design and always-on high speed broadband connection works in conjunction with any CDMA or TDMA VSAT network around the globe. Intellian marine VSAT systems provide ease of use and high reliability. The built-in GPS and auto-skew angle control is used to acquire the satellite signal faster and optimize the strength of the signal. No matter where you are, no matter whom you want to communicate with, you can rely on your Intellian VSAT as your communications system.